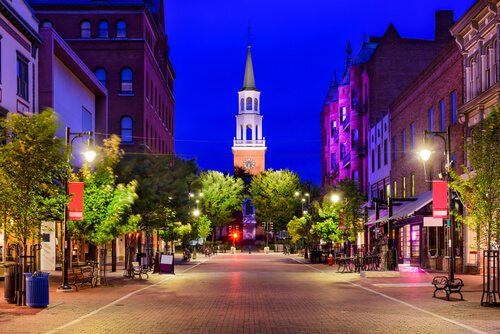 New England is one of the most beautiful areas of the country, and is appreciated by both locals and tourists who travel here each year for beautiful summers, the leaves changing in the fall, the gorgeous natural beauty of spring, and even the incredible skiing in winter time.
If you're looking to attend college at one of the incredible schools in the Northeast region of the United States, or are just looking for a weekend getaway in a quaint college town, New England is the perfect place for you, no matter what time of year. Here, you'll experience that quaint small town aesthetic while still benefiting from the proximity to large cities. Let's look at some of the prettiest college towns in New England and what makes them so unique.
Burlington
One of the things that makes Burlington, Vermont special is the fact that it's situated right on Lake Champlain. If you're interested in studying on the beach or taking a kayak out on a gorgeous fall day, Burlington is the perfect spot for you. It is also home to some of the best skiing in New England, just a quick drive away from the best mountains in the country.
Burlington is home to the University of Vermont and Champlain College, as well as St Michael's College and Clinton Community College. Looking for Burlington houses for sale or apartments for rent? Whether you're looking for a job after college or just a great place to raise a family, Burlington has plenty of opportunities for residents. Vermont has also been ranked the healthiest state in the country, perfect for health-conscious folks looking to start anew in a gorgeous New England college town.
Providence
Providence is located in Rhode Island, the smallest state in the country, however it's anything but small. Providence is an incredible destination for shopping, dining, and taking in a bit of local culture. From the Museum of Natural History and Planetarium to Gondola trips along the Providence Riverwalk, there's always something fun to do in this incredible college town. Eight college and university campuses make Providence their home, including Brown University and the Rhode Island School of Design.
Visiting in the fall? Be sure to plan your trip around the Providence WaterFire, where almost 100 bonfires are set atop the three rivers that run downtown and make a one-of-a-kind artistic experience. This is an attraction you don't want to miss.
Boston
Looking for more of a city feeling? Boston, Massachusetts is the perfect combination of quaint New England and big-city vibes. Here, you'll have everything you need at any hour of the night, as you would in New York City or Los Angeles, but instead of neon lights and skyscrapers, you're surrounded by the most gorgeous old buildings and reminders of our country's history. The Georgian architecture of buildings such as Faneuil Hall and the Old State House make for a unique artistic experience as you walk through the streets of Boston. Of course, there are neon lights and skyscrapers too, but somehow that all becomes forgivable when set against the backdrop of that New England charm.
Boston is home to some of the best colleges in the country, including Harvard. It is also just a short drive away from Cambridge, where you'll find MIT, the Massachusetts Institute of Technology. These schools consistently rank in the top three in the United States, making this area perfect for students looking to get the best education.