This Christmas, whilst the streets are busy with Christmas shoppers, the avid homemaker is thinking of ways of creating a warm and festive atmosphere to welcome family and friends to their homes.

Life is so very busy these days that it is only at festive times of Christmas of Easter holidays that we are able to make time to get together with family and friends and enjoy each other's company.

It is, therefore, very important to make your home open, warm and welcome so that the family and friends feel comfortable, at ease and relaxed.

In this article we explore simple and easy ways to decorate the living room, creating a comfortable, homey, Christmassy feeling.

Create a Luxurious Warm Feeling
Christmas is a time for happiness and cheer, to feel warm, cosy and relaxed. No home at Christmas is complete without a Christmas tree. A Christmas tree in front of the window, near a fireplace, is wonderful in creating a warm and festive feeling of the living room.

Christmas tree decorations are a tradition for many families, coming together to create handmade ornaments or shop bought to decorate the tree with hot chocolate and warm drinks is an ideal way to kickstart this festive season.

The Christmas tree with the lights and shiny baubles go well with having deep, plush, velvet cushions, throws and blinds or brocade curtains to give the room a warm luxurious feel. You could also consider adding a velvet chair or a piece of mahogany furniture to complement the warmth of the room further.

Match the Decoration to your Furniture
It is not always possible to replace your furniture at times such as Christmas, the best thing to make the most of your existing furniture is to match your Christmas decorations to your furniture. Decorate your tree and your living room in colours which match and complement your furniture.

Dressing your Christmas tree and your room décor in complementary colour schemes will bring the whole room together and add a flair of excitement to the room. The ideal home decoration for any occasion is to allow your personality to shine through. If you have mixed colours for your furniture that's all the better as having multiple coloured and textured furniture is the in thing right now.

Use the Christmas décor colour scheme to fuse all this together, creating a warm, relaxed and comfortable atmosphere.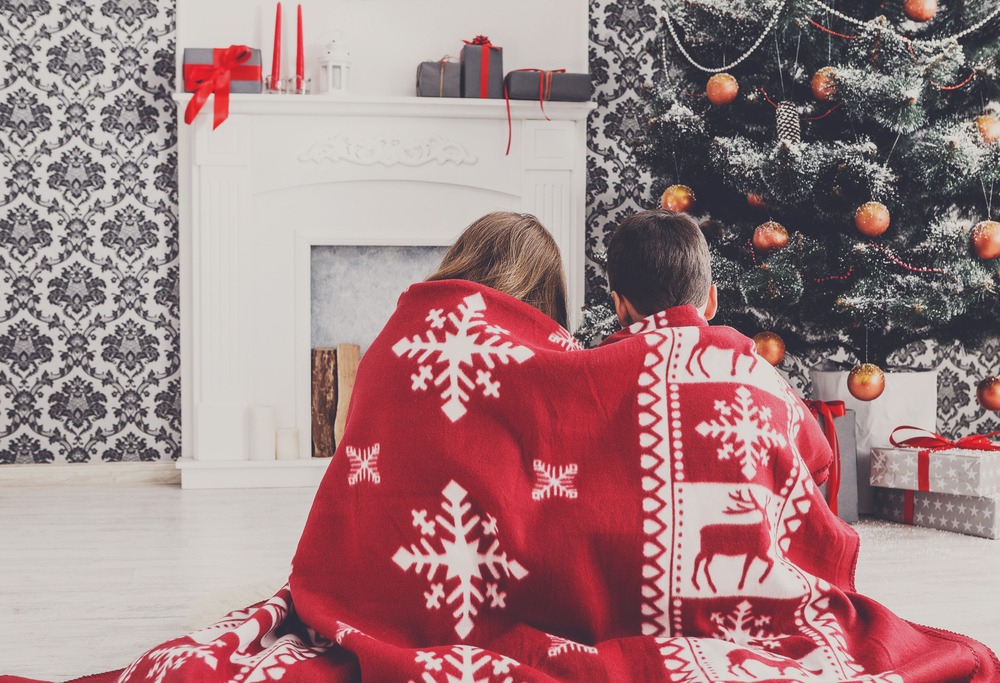 Create a Festive Feature Background
It is always a good idea to create a festive feature background, the advantage is that you can focus your attention on decorating a specific area of the room which will attract everyone's attention. You can create a feature wall using festive wallpaper, there are plenty of designs to select from; alternatively, you could opt for beautifully crafted luxury blinds which will give your window a very festive look. There are plenty of festive designs to choose from, especially if you require custom made blinds around the London area.

Alternatively, you could decorate a mantelpiece as a festive feature backdrop in the same colour as the Christmas tree, a wonderful way to add to the aesthetics of the room.
Complement with Winter Warmers
Winter warmers are a great way to bring cosiness to your living room this Christmas, adding warm woollen blankets, cushions and throws is a great way in creating a snuggly feeling. Placing these around the fireplace and the sofas is very inviting for family and friends to snuggle up and relax. Choosing winter warmers in festive designs and colours adds to the importance of the occasion, you can opt to match these to your Christmas décor.
Let Your House Bling
Christmas is a time for bling, the beautiful shiny baubles decorating the Christmas tree, the Christmas lights and the sparkle from the crystal glassware, everything at Christmas has a natural tendency to bling. Use lots of bright shiny objects and crystal ware in the room to help create an ambience of opulence and elegance. Bling will add to the festive feel of your living room.
Remember the Holly, the Ivy and Mistletoe!
Holly and ivy are traditional plants in home decorations at Christmas. Keep these traditions alive by including them in your living room décor. You never know a carefully placed mistletoe may be the beginning of a newfound relationship!

Hopefully, you will find these simple tips useful in decorating your home this Christmas.