The 'E' in E-SUPERCAT luxury sailing catamaran refers to electric, but with this eco-friendly yacht, it just as easily can be interpreted as standing for exceptional, exquisite, and elegant. This electric yacht for charter, powered by two high-performance electric engines, provides the ultimate in silent, zero-emission sailing for the serenity of guests and the sustainability of marine life.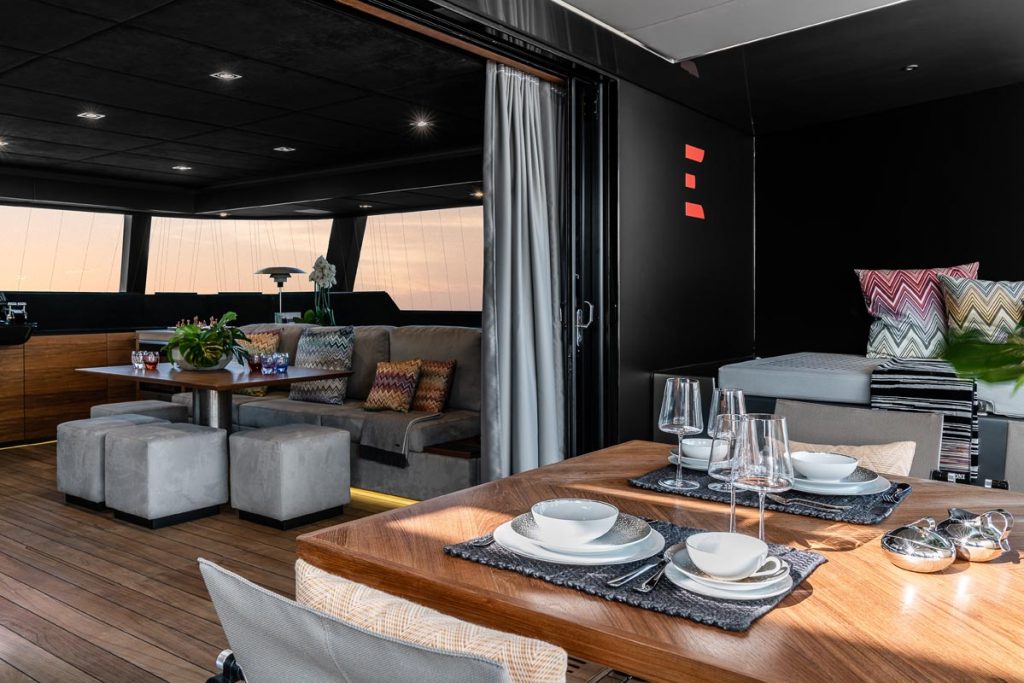 An electric yacht for charter designed for seaworthiness and comfort
This stylish Sunreef catamaran, at 18.3 metres in length, is stunning at first sight, with her silver hulls and handsome profile. Onboard, this eco-friendly yacht offers spacious areas on deck and indoors, giving guests plenty of room to socialise, dine, and bask in the sun.
The master suite and three en suite double cabins, all with a nautical theme, Wi-Fi, and energy-efficient air conditioning, offer comfortable accommodations for eight guests. Al fresco dining on the main deck is served at a large, teak table with unobstructed views of pristine waters. Casual seating on a sofa along the stern offers a comfy spot for reading, relaxing, and socialising, and the barbecue and bar opposite are among the most popular amenities!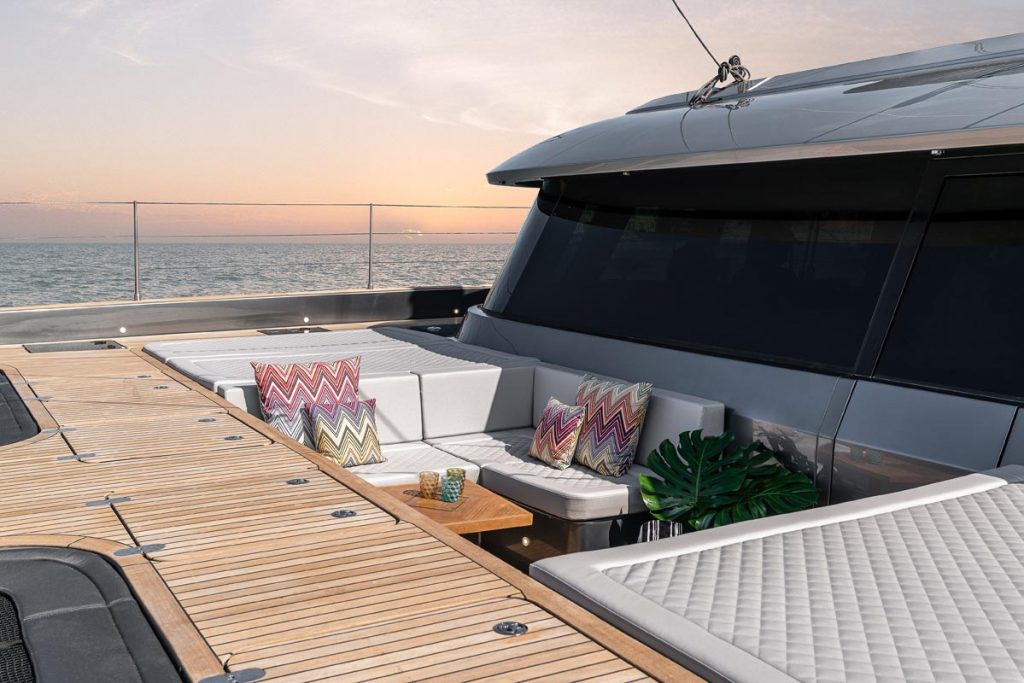 Sun and surf options
In addition to the double sunpads to port and starboard on the flybridge,there is a host of gear for guests to enjoy — including two trampolines in the bow area. Jump and play, or simply lie back and take in the views from elevation. Ready for more action? The water toys on this electric yacht for charter include everything wanted for ocean-going fun, from an inflatable water slide to stand-up paddleboards, a wing surfer, a Fliteboard efoil, and even two state-of-the-art e-bikes for onshore excursions.
A hydraulic swim platform provides easy access to the water and to the 60 horsepower Falcon tender that will take you ashore to explore. But perhaps best of all is the Sofar Trident underwater drone for capturing and streaming HD video of marine life in living color. And no need to worry about bringing your own dive gear — there are two diving sets and a compressor onboard as well.
Silence on the seas
With this eco-friendly yacht's silent electric propulsion system, sailing is particularly pleasurable as there is no noise from the generator and no vibration, not to mention a minimal impact on the marine environment. At cruising speed of 12 knots, the engines are on silent zero-emission mode, with hydrogenation used when sailing, allowing guests to simply hear the sounds of the waves. Solar panels on the bimini provide additional clean energy for the batteries and appliances, and a backup variable-speed diesel generator is ready as needed. All in all, this electric yacht for charterseamlessly combines hi-tech sustainability and guest comfort for a delightful ocean-going experience.
What better time to consider a superyacht charter? Whether cruising from the Amalfi Coast, Sardinia, or Sicily, you can be kind to the environment while exploring the seas in high style.